It's almost North Texas Beer Week (henceforth referred to as NTBW) and, as per usual, we will celebrate and we will revel. We have some very special events lined up this year that you certainly won't want to miss.
Kicking it off (with a steel-toed beer-boot) is our second Jester King beer breakfast on Saturday, November 7th at 10:00 a.m. Very special guests Jeffrey Stuffings and Ron Extract will be here to guide us through 5 very special brews paired with 4 of Chef Rick's pairings. Did I mention they were special? They will be very special. Tickets are $55 for the general public on Eventbrite. Delerium Guild members should contact the restaurant for their tickets and reservations. Midday naps not included.
On Thursday, on our newly enclosed patio area, New Belgium brewmaster Peter Bouckaert will be hosting a 6-beer/5-course beer dinner. Tickets are $75 for the public on Eventbriteand $65 for our Delerium Guild members. This one is very special in its own right as we'll be pouring a few beers Texas has yet to see. Beers for the dinner will include old favorites La Folie and Le Terroir, alongside newcomers Eric's Ale, Love Apple Oscar, and Love Blackberry Felix.
Then, on Friday the 13th, Avery Brewing Co. President and Brewmaster Adam Avery (yes, you read correctly) will be here to run us through maybe the greatest lunch you've ever had. Avery's Raja, Fortuna, and Insula Multos will be included on the 4-beer/3-course menu. I think I mentioned that NTBW would be very special, didn't I? Tickets here will be $50 for general public and $40 for DG members. Pick 'em up, pick 'em up. These will all go quick.
We'll also have (very) special tappings every day throughout the week so keep up with us on the Facebook to find out what all is happening.
Lastly, as we've been tasting such fantastic beer from Firestone Walker all month long, I thought I'd share a few of my own experiences. Sucaba, Stickee Monkee, XVIII Anniversary, and Parabola are all well and fine, but for me it's the Easy Jack that gets my gears turning. The all day/everyday beer I find is simply the perfect companion, wherever I go. We've been spending a lot of time together recently and I think it's safe to call us friends.
Here we are, just enjoying the day on the patio here at Moth.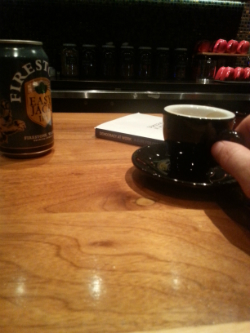 We had such a good time we decided to get a cup of coffee together, then decided to make a day of it and hiked out to another patio.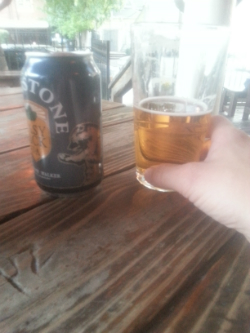 Me: Sure is nice out.
Easy: Sure is, buddy.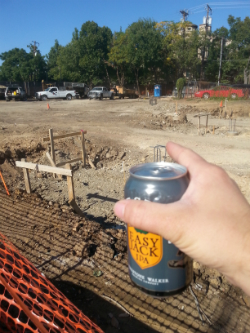 Me: Hey, Easy. Remember when I used to live there?
Easy: You used to live in a vacant lot?
Me: There used to be a building there, silly.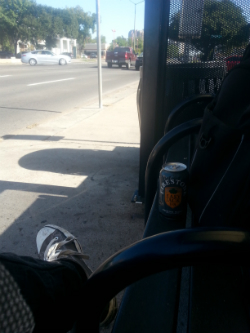 Me: I don't think that bus is coming, Easy.
Easy: Don't worry about it, man. It'll come or it won't.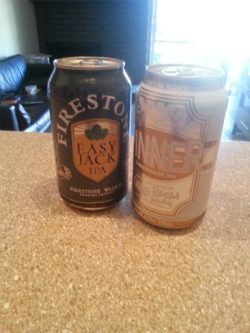 Then we found ourselves at a playdate.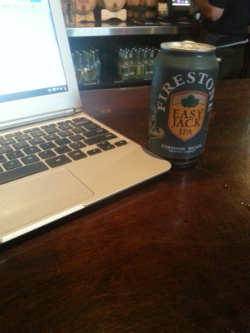 Me: Any final thoughts, Easy?
Easy: I think you about covered it, Chase.
Me: Aw shucks, Easy. Thanks, pal.
Don't make it too hard. Try to take it easy, everyone.
-Chase