Everything I've ever had from Japan's Kiuchi brewery has been daring, indelibly complex, and empirically Japanese, so I was not surprised to find the Hitachino Nest XH (Extra High) matured in red wine barrels was challenging in its depth.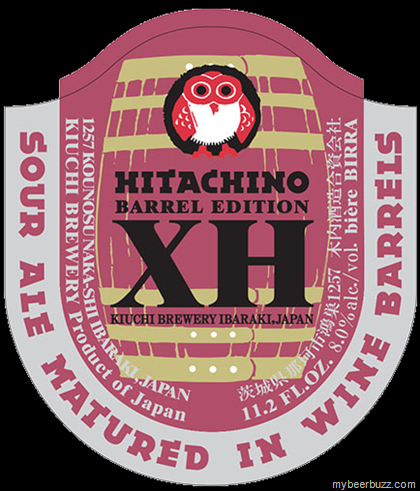 Out of the bottle, it pours a luscious ruby red with a thin head that correlates to its mild, soft carbonation. No bubbles got in the way of this beer's punch. The first sniff is a rush of dried raisins and candied dates. Sharp tartness and sweet notes follow, almost like fresh cherries covered in balsamic vinegar.  After a few minutes in the glass – I was warming my quarter-portion in a snifter – bitter oak tannins and spice languidly rise.
The palate, the beer begins with a sweetness of body, subtle tartness, and a comforting boozy warmth. Tartness turns to notes of apple cider before a salty quality blooms that I found distinctly like umeboshi, or Japanese pickled salted plums. It really is incredible, and had it not been corroborated by the others I was tasting the beer with, I would have doubted it altogether simply on the grounds of strangeness and unfamiliarity. Also swirling around were more bitter notes of plum skin and a crisp minerality that was not at all unpleasant. But all of this complexity fades, or perhaps comes together, in an elegant and simple finish so much like fortified wine that our accounts of it were unanimous. If you can imagine a drinkable port, this would be it.
All in all, this is a delicate, soothing brew that might be my favorite new nightcap on these last few cool evenings before Summer – I mean Spring in Texas – gets officially underway.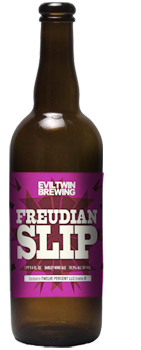 Next up was Evil Twin's Freudian Slip. Firstly, I think we've all been appropriately nuts about all the fantastic breweries that have finally begun distributing to our neck of the woods (The Bruery, anyone?) and Evil Twin is maybe one of those were are nuttiest about. Secondly, if you find yourself in Brooklyn (don't be scared) you also need to find your way to Tørst, the spiritual home of Evil Twin Brewing. I visited last summer, had some wonderful beer in that wonderful bar, and crushed a Westbrook Gose before heading out just for good measure. I found it a satisfying process.
Now, for the Freudian Slip, a barleywine, we found many sublimities that floated their way into our collective consciousness. On the sniff, we got a myriad of notes. Toasted nuts, confectioner's sugar, and burnt honey were immediately noticeable, followed slowly by an unexpected fruitiness, stone fruit specifically. We found very heady notes of caramelized peaches and overripe pears before chocolate wafted up as it warmed.
On the palate, the nose was translated very faithfully. More sweet notes of honey with toasty flavors of peanut brittle and creme brulee. Chocolate-covered raisins was called out several times as was red licorice. The finish is sweet, yet relatively drinkable. It is substantial beer that maintained an amount of subtlety and – dare I say – grace for a style that can sometimes be overwhelming. At the end of the day, this was a great beer to taste with my friends and another fine entry into the "Big beers that drink like not-so-big beers" list I have apparently been compiling.
And, finally, we are happy to welcome back Stephen Beaumont for another collaborative beer dinner here at the Moth. The menu is as follows and Mr. Beaumont will be curating the beer list, so expect great beer and incredible pairings.
Three New England Oysters
Steak Tartar & American Caviar
Beer mignonette& pickled hops
Yuzu Ice
Smoked House Corned Beef Brisket
Apple mustard butter, roast turnip, rutabaga & pickled bulb onion
Seared Skate Wing
Smoked egg puree, pickled farm egg, black winter truffle & winter greens
Braised & Seared Pork Belly
Acorn squash gnocchi, blood orange, sage & parmesan
Lemon & Rhubarb Napoleon
We'll announce beer pairings and ticket prices soon, so stay tuned!
-Chase