First up this week is Sierra Nevada's and Boulevard's Terra Incognita #3. These are trusted names in the craft beer community, I'd say. Boulevard's Smokestack series has given us nothing but gold with each new pressing and – among other things – Sierra Nevada Pale Ale was one of the beers that got me into craft more years ago than I really care to count. I always expect good things and usually receive them. It's nice, however, to still be surprised by breweries I think I have pegged, and #3 Terra Incognita did exactly that when I tasted it.
By Sierra Nevada's description, this is a hopped-up brown ale aged in a variety of barrels, then blended to taste. With 55% wine barrel-aged, 32% in bourbon barrels, and 13% fresh beer, it screams diversity. The nose is a scintillating tease, really, hinting at everything while betraying nothing. There are dates, prunes, raisins and figs alongside ripe cherries and raw chestnuts. As it warms, I find molasses and portwine, leather and sweet bourbon, before milk chocolate and liquorice dominate. A definite alcohol hotness lends itself to an unmistakable scent of holiday rum fruitcake and sweet autumn spice.
On the palate, peppery oak notes tingle while chicory, burnt caramel, and grape must swell. Again, it warms to something more robust. Give it a minute and you'll find sweet pipe tobacco, bitter tannins and fruity grape must. The nose is insanely complex while the body is fairly straight-forward and simple. It's a dichotomy that's intriguing and satisfying. The finish is dry. Bone-dry. British comedy-dry. And for as big a beer (9.8%) with as much complexity as it boasts, it inhabits a dangerously drinkable space with all its smoothitudes and grooves.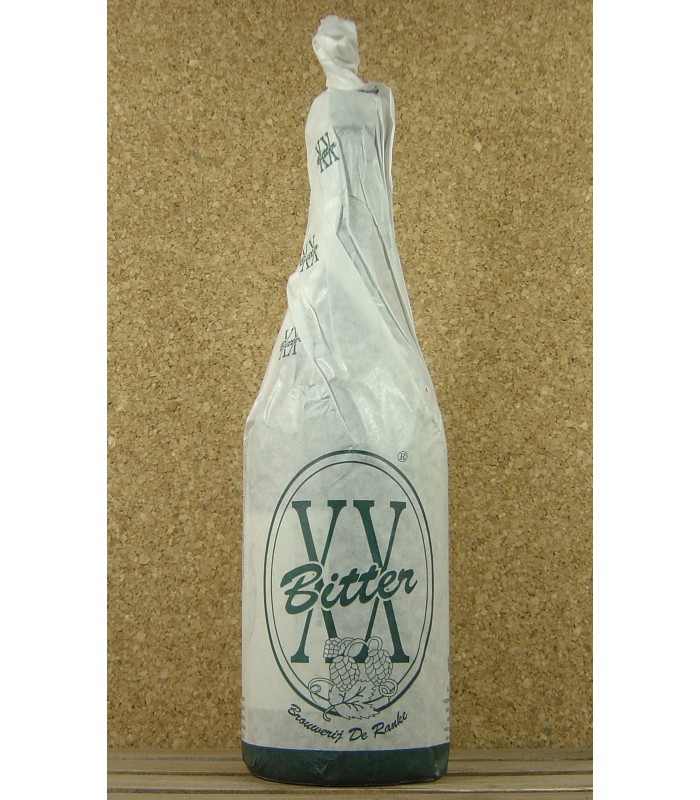 Then, there is the XX Bitter by De Ranke, and I'll put this up front: I am and have been for quite some time in the midst of a love affair with this beer. I dream about this beer and this beer is my dream. Having said that, I had never tasted this beer in the fashion that I normally taste for these reviews, and in that way it has revealed its deeper, truer self to me.
Pour this one carefully. Its carbonation is restless and eagerly expands to form a generous head, betraying an aspect of the beer's delicacy. In the glass, it seems a simple pale gold, understated in its purity. Dig your nose in – really get it in there – because this is not a beer that gives up its secrets willy-nilly. Search and you'll find soft white fruit: crisp pear and tart green apples, alongside dry grassy notes, fresh hay, and spring flowers. I'd never considered candied lemon peel before tasting this with a friend who suggested it, but I don't think I'll ever drink this beer again without getting that sugary bitterness on the nose. But all of this is articulated in an entirely muted manner.
My new dissection of this beer proved my familiarity with it, and my underestimation of it. The aromas are so minute, so ethereal in comparison to the what lands on the palate. It's as deceiving as the Terra Incognita, but in a wholly different way. It plays the razor's edge game of expressing that which is hidden within while keeping the depths of its essence just out of sight. Tasting revealed a sharp minerality, a taste of honey, and notes of grapeskin and yellow raspberries before rising to bitterness of grapefruit pith and the ripe perfume of dandelion greens. The finish on XX Bitter is where the soul of it dances. The dryness and the aggressive carbonation marry to form a sensation like that of cotton candy melting in your mouth. It happens every time I drink it. "I know I just drank some of this beer, but now it's gone. How did that happen? I better drink some more to make sure that's what happened." It happens from time to time, that something we think we know shows itself as more intricate than we could ever envision, and in a way serves to expand our own imaginations.
This is a beer as quintessentially mysterious, as deeply puzzling, and as utterly satisfying as life can be. The aromas are rife with opportunity, yet the body delivers in ways unexpected. If the nose comes on like a welcome breeze in early Summer, full of promise and clues to the future, then it tastes like life's realization. Even if we could know what might happen tomorrow or the next day, can we ever truly anticipate the subtle complexity within our experiences as they come to pass? And by the same token, you may read this and gain some general sense of what De Ranke's XX Bitter is like, but trust that it holds so much more than I can convey through simple words. Taste this beer. Drink it, and let it whisper to you all the secrets and possibilities of all the days and weeks and years to come.
-Chase