Beer Reviews: It's the Great Jolly Pumpkin, Charlie Brown.
And it is great. Also, it's jolly. Also, delicious. Founded by Ron Jefferies in 2004 with the goal of creating artistic, delicate, and complex beer while maintaining traditional and small scale production, Jolly Pumpkin Artisan Ales has since been providing the wide world of beer with one phenomenal wild-fermented, oak-aged brew after another. Now, after we'd waited in a field all night, the Great Jolly Pumpkin finally appeared on our market and is here with gifts.
First up was the Bam Biere. Named for the brewer's Jack Russel terrier, this is a dry-hopped golden farmhouse ale, and it's every bit as advertised. On the nose, I found light, but bright funk with peppery spice. Hints of juicy stone fruit waft up with suggestions of plum and apricot before grassy hops lay a bed of fresh cut hay.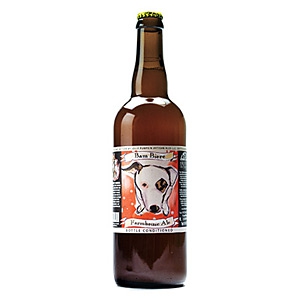 The taste carries the nose to the palate faithfully and gently across a delightfully teasing body. Pepper and funk dominate then fade into a reserved tart and bitter finish with notes of aloe vera, rose water, and orange blossom. This is a refreshingly dry beer that's simple enough to session on a hot day, while keeping such a subtle swirling current of complexity just beneath its placid surface that, on your third glass, you'll still discover something delicate and new.
Then, we tasted Calabaza Boreal, an oak-aged wild Belgian brewed with grapefruit and peppercorn in collaboration with Anchorage Brewery. On the nose, aggressive funk and pungent black peppercorn dominate, then wane to allow notes of peach, candy sweetness, and licorice to waft up. On the palate, we get another light body, this time, with eager acidic tartness that leads to juicy orange as it warms. The finish sweeps in with a pulpy sweetness that carries robust bitterness of grapefruit pith.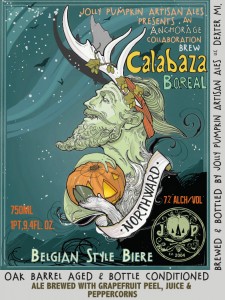 These beers and everything else we've tasted from them have been simply stellar brews that communicate clearly this brewery's purpose and mission. You can always tell the beer made by people who truly care and are as passionate about making beer as we are about drinking it, and now they're here among us. Look out for more selections from Dexter, MI in the future. None of us will be disappointed. Welcome, Great Pumpkin.
-Chase