Well, the holidays are over and most of us (I assume) made it through relatively unscathed and perhaps with a few new notches on our beer belts. Just to shake things up I decided to taste a pair of classics in the catalogue, two beers I'd taken my fill of over the years, but hadn't quite stopped to smell their roses in a way that one tends to when writing about them.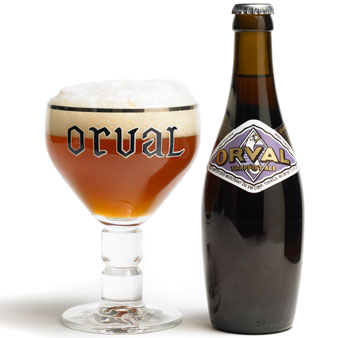 First up is one of my all time favorites: Orval. This is a unique trappist ale that is wholly its own beast and has inspired many brewers to pay homage with beers that take after many of its greatest qualities. Remember Rayon Vert? Pop it open and pour gently. This thing is so full of bubbles that, if you're not careful, you may end up pouring this beer three or four times just to get to the bottom of the bottle. Or, go for it, and watch the eager head climb the walls of your glass.
On the nose, you find stone fruit notes of overripe peaches and dried apricots, bitter lemon rind, and funky notes of the Brett with which it is bottle-conditioned. Hiding underneath were peppery oak and mild tannic notes. On the palate, the citrus is carried over, but shifts to sweeter and more bitter orange. The pepperiness comes back with suggestions of rye and caraway before giving over to a floral hop finish. This beer's body is full, yet delicate, bubbly to no end and bone-dry. I hesitate to go further into the profile of this one, because, honestly, if you haven't ever tried Orval, you're simply missing out. Try it with… anything. Almost anything. Especially cheese. This is the most ridiculously versatile cheese pairing I've come across. Orval has taken everything I've thrown at it – from sweet goudas to funky Swiss mountains, from tangy blues to hearty trappist cheeses – like a champ.
Brimming with uniqueness and character, Orval has hewn its own path through the magical forest of beer. Ain't no party like an Orval party, because there is nothing quite like Orval. Try to pin it down and watch it wriggle out from underneath your arbitrary style designations. This is a beer that stands on its own. This is a beer that is not defined by how you perceive it. It doesn't need you, though it's willing to ride alongside you for a time, and, if you listen carefully, it might show you something you've never known. Then again, maybe it's just beer, even if a particularly fine one.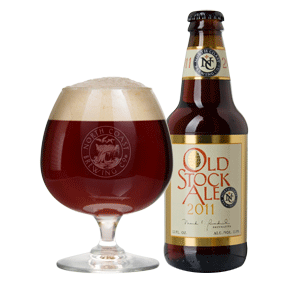 Now, I believe North Coast's Old Stock Ale to be a forgotten treasure. There is no good reason for this beer to have fallen out of my regular rotation, but it's a mistake that has been remedied. This beer, as a friend once put it, is the warm, fuzzy blanket of barleywines, and it keeps me company on these sometimes chilly nights.
Tasting it now, I found Old Stock to be everything I expected, but articulated in surprising ways. This beer smells like you imagine a barleywine to smell, but it's modest in its style assertion. Dark fruit notes are present in rich notes of raisin and prune. Sweetness comes through with candied plum, brown sugar, molasses, and toffee. However, these aromas are dug in and take a bit of effort to discover. They don't overwhelm and seem to work together in securing this beer's character. On the palate, Old Stock is unexpectedly dry and drinkable. Like a good guest, it lingers just long enough to encourage a second invitation. And a third. A fourth. And so on.
This is also one of the beers truly worth cellaring, in my opinion. Find a four-pack, shove it in the back of a closet and forget about for a few years. With maturity, Old Stock mellows even farther and becomes more confident. If it is a treasure fresh, it becomes a legend with a little age on it.
Pairs with fireplaces, contented sighs, and early Tom Waits. Old Stock =~ Old Shoes.

-Chase