Back at the end of the summer of last year, a small group from our family of restaurants was invited out to the Stone World Bistro in Escondido to sit down with the brain trust of Stone Brewing Co. to blend a beer from a collection of their beers. This was a wonderful opportunity extended to us that has been extended to others in the past who have been loyal business partners with Stone throughout the years. Our group has been pouring Stone brews for over 7 years now in Texas.
Mix Tape Vol. 10 is the result of that blending session that took place over a few hours with 16 beers to choose from ranging from dry hopped or botanically infused IPAs to barrel aged beer. Founder Greg Koch, Brew Master Mitch Steele and Special Projects Manager Steve Gonzalez were all at the table but they really just let us go our own way. We stumbled around tasting some beers. We tossed around some ideas of directions we thought we might want to pursue.  Then, we dove in with the beakers and started creating blends.  Steve was great for us as he took extensive notes as we tried this and that.  And about an hour in, we thought we came up with an interesting blend with the Coffee Milk Stout being a strong role in the blend. But, there was this other beer on the table, Varna Necropolis, just staring at us.  That beer was incredible.  It would have been a shame with that beer on the table not to blend it in somehow someway. Two threads of the first blend still felt appealing.  There were flavorful, patient and had nuance that could provide enjoyable subtleties to a beer with strong character.  That is where the Varna stepped in with it Golden Ale ass self with a Saison yeast aged in Bourbon barrels for 12 months.  Big, bold, badass and Stone.  Through some trial and error, we felt like we came up with a sexy, elegant beast that will be enjoyable to taste now and for a few years to come.
The Vol. 10 blend is almost equal parts of Varna Necropolis, Cali-Belgique aged in red wine barrels and Cali-Belgique with Montmorency Sour Cherries that finished at 51 ibu and 8.6% abv. As you should always try to do with beer, we had to roll with the punches.  A week later as Steve went to blend the three beers into the bright tank, he realized that there wasn't enough aged Cherry Cali-B to make the blend work on the scale we hoped for.  He decided to blend fresh Cali-B and fresh pressed sour cherries into the bright tank. Of course this changed the flavor profile some, the original blend is still lurking and, with age, our gargoyle will be birthed from the gargoyle that you will hold in your glass this Friday, February the 20th.  We couldn't be happier with his decision as it added a completely new dynamic to the beer with fresh sour cherry instead of aged and the fresh bitterness from the fresh Cali-B.  This was a thrilling experience to take part of and we really couldn't be any prouder to share this beer that the crew from Stone Brewing Co.  helped us create…for you…..the Beerknurd!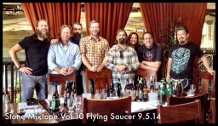 To another 20 years!!
Cheers!!
Tasting notes from Stone for Mix Tape Vol. 10…
Lots of sweet and sour intense cherry flavors. Lots of red wine and bitter woody notes from the barrel aging, plus a hint of bourbon from the Varna Necropolis. Spicy phenolic flavors from the 3 Belgian yeast brews combined into this beer. Intensely complex beer with lots going on and a lingering finish of cherry, wine, oak, and bourbon. Suitable for extended aging. Suggested serving temperature around 45-50F
Look for tappings of Mix Tape 10 periodically at The Moth or your local Flying Saucer.